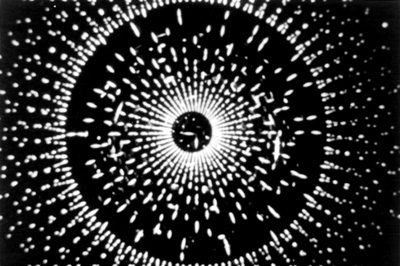 1961, USA, 16mm, colour, sound, 7 min.
A painter who moved into working with abstract experimental cinema, Jordan Belson was one of the key figures in the San Francisco multimedia experimental scene during the '50s and '60s. The work of this group coincided for a while with the famous Vortex series of multimedia concerts at the Morrison Planetarium, where Belson curated the visual section by getting other experimental filmmakers of the period to join in. Some musicians who are now considered as pioneers of electronic music also took part.
In some ways Allures brings together elements of the kinetic research that Belson was doing for the Vortex concerts. Usually classified as "animation", even though it was not made using traditional animation techniques, Allures is a spectacular sequence of moving figures and points, a film which reaches out to the cosmic and the spiritual, where the spatial dimension becomes transcendental.