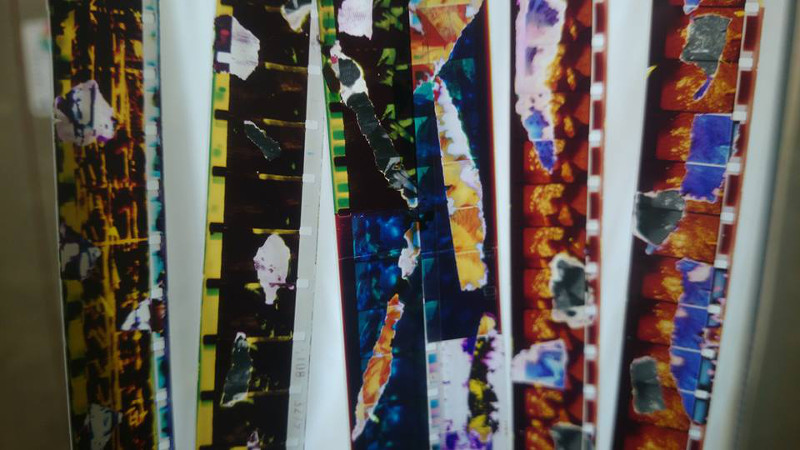 The Chromaflex workshop explores a new photo-chemical technique which allows selectively controlled negative and positive colour and black and white images on the same strip of film. What is more, the technique allows these selection decisions to be made in full light. This technique can generate areas of colour negative, areas of colour positive, areas of black and white, as well as areas of clear or black all on the one strip of film or indeed within the one frame. Further, as all colour work with this technique occurs in full light, it is possible to watch the colour chemistry working its magic in front of your eyes.
The process begins with a freshly made colour print of colour negative material. Instead of processing this print in the normal ECP process, however, the Chromaflex method involves a novel processing sequence that initially produces an odd looking positive black and white image on the film. Once this stage is complete, the film is then ready to be handled in full light.
From here, various areas on that print can be selected to become positive colour, negative colour, be left black and white or processed as black or clear film. Those areas will be selectively covered with appropriate chemical blocking tape. Then the film is selectively bathed in an assortment of colour chemistry before removing the tape and bathing in more chemistry. This is a unique materialist film technique with many possibilities to investigate. It is also a powerful teaching technique to use to explain the workings of colour chemistry.
Thursday, 23 June, 2016 - 11:00

to

Friday, 24 June, 2016 - 15:00